Kimera Labs is the leading exosome biotechnology laboratory specializing in the production of perinatal mesenchymal stem cell-derived (MSC) exosome products for scientific and clinical research.
Vive serum is a topical solution specially developed for skin care purposes. The product contains proteins, enzymes, growth factors, and exosomes derived from mesenchymal stem cells (MSCs).
The MSC cell bank utilized in the manufacturing process is meticulously isolated from donated human placenta. The cells are rigorously characterized for identity and safety by a team of experienced scientists. Although this is a topical non FDA-cleared product, the manufacturing process is performed following strict cGMP guidelines in an FDA inspected laboratory, in full compliance with applicable regulations to ensure the quality and safety of the product for human use.
With Hyaluronic Acid, 16 Amino Acids, Vitamin C, Rose Water, plus Trehalose*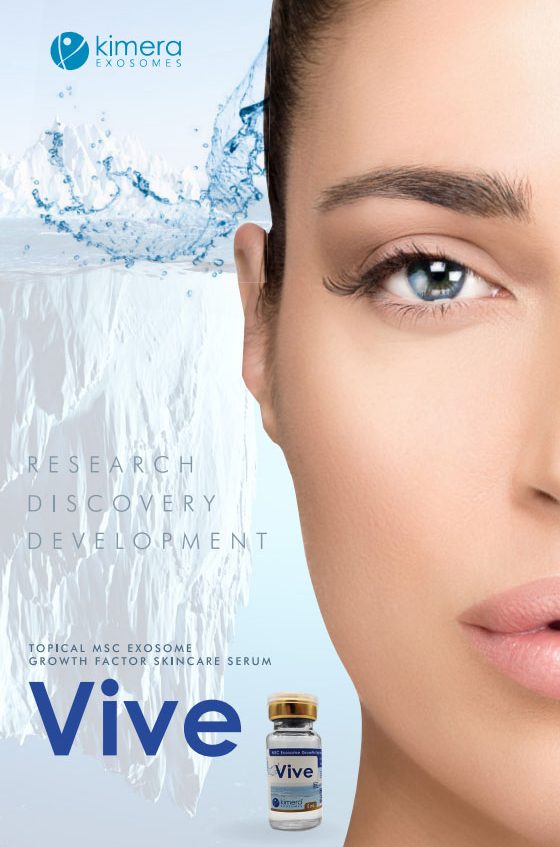 *Reference: Echigo, R., Shimohata, N., Karatsu, K. et al. Trehalose treatment suppresses inflammation, oxidative stress, and vasospasm induced by experimental subarachnoid hemorrhage. J Transl Med 10, 80 (2012). https://doi.org/10.1186/1479-5876-10-80